Gate-1 Chart Delivery Service
The Gate-1 provides up-to-date UKHO and Primar chart DVDs and permit files on board. It uses the ships communication system. It operates reliably in harsh conditions with low data transfer rates, unreliable communication links and long lag times.
The Gate-1 features:

Fetch PRIMAR (ENC charts), UKHO AVCS charts (ENC charts), AIO overlays and ARCS charts (raster charts) automatically to the ship
Fetch new charts and permits to the ship automatically
Provide industrial strength authentication and encryption on all
transmitted data
Low bandwidth usage. Tunable in 1kbytes/sec steps. Default is 3kbytes/ sec.
Data centers on three continents for reliable delivery on chart data around the world
Complies with EN60945:2002 regulations
Environment friendly energy consumption around 5W

Secure environment for blocking viruses and other malware of entering the ECDIS network during chart updates.

The Gate-1 System provides also flexibility to make various customized applications for customers. The application may be extended to pass other navigational information like routes and user charts to the ECDIS, without need to use virus-prone USB memory sticks or burning data on DVDs.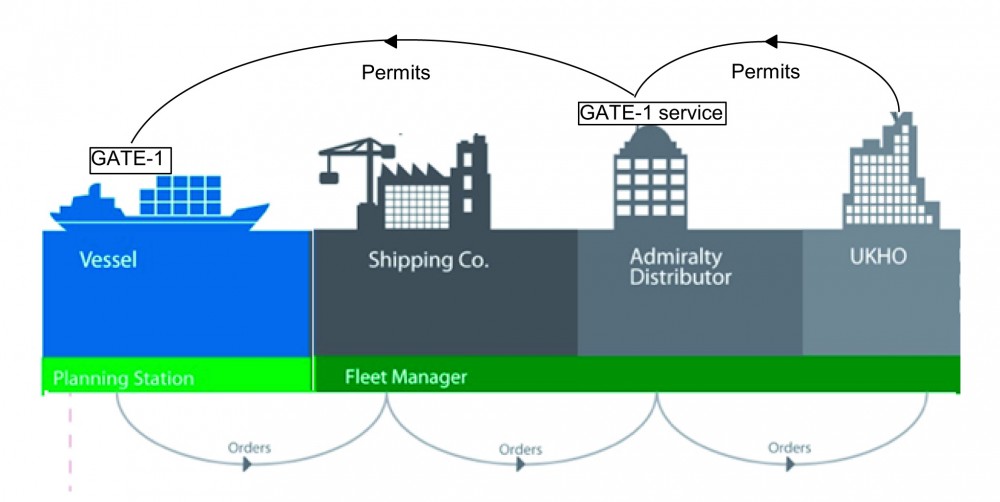 Advanced networking technolog ensures safe and timely chart updates on board

Gate-1 contains a complete set of virtual chart DVD disk
Transfer both base DVDs and update DVDs

Automatic transfer of raster and vector charts on board

Automatic transfer of chart permits on board

Supports UKHO Admiralty ARCS (raster), UKHO Admiralty AVCS
(ENC) and PRIMAR (ENC) charts

No need for using real DVDs or virus prone USB sticks

Safe. Data connections are authenticated by RSA keys and
encrypted by AES

Virus removal to prevent viruses from entering ECDIS

Environment friendly. Power consumption 5W

No moving parts

Low bandwidth for transfer of data. Uses at most 3kB/sec